5th and 6th Grade
English Language Arts and Social Studies
Hi 5th and 6th Grade Families,
My name is Sarah Allen, and I am your student's English-Language Arts and Social Studies teacher! This is my third year as a classroom teacher at Grand Isle School and tenth year overall. Previous to being a classroom teacher, I was a paraeducator, substitute teacher and after-school director/teacher.
I was born and raised in Southington, CT (about 20 minutes from Hartford) and spent my summers at my family's summer place on the east shore of Isle La Motte. I worked at Ruthcliffe Lodge and Hero's Welcome for many summers before working in a summer program here at Grand Isle. My favorite hobbies are collecting Yankee candles, decorating for holidays, reading (especially Harry Potter!), listening to all types of music, watching the Yankees, snorkeling and dancing. I currently live in North Hero with my husband and 9 year old son.
I attended Castleton State and majored in history and secondary education. Upon graduating, I got my degree/license in ELA and middle grades education. I have worked with many age groups, and grades 5-9 is definitely my favorite! I love how students are coming into their own and challenging the world at this age. I also remember how hard upper-elementary/middle school can be and find that empathy goes a long way. The best part of my day is when I tell a cringy joke and the students actually laugh (it does happen occasionally!). I love building strong relationships with these students and want them to always know they can come to me
If you ever have any questions or concerns, please email or call my classroom!
Sincerely,
Sarah Allen
sallen@gisu.org
802-372-6913 ext. 5117
Mrs. Allen's Classroom Expectations
Grand Isle CARES means being…
KIND:
Giving our attention when someone is speaking (quiet and facing them)

Waiting our turn to speak

Cleaning up after ourselves

Checking up on people when they are hurt/upset but also giving them space when they need it

Staying quiet in line
SAFE:
Walking in the classroom

Sitting the right way in our chairs

Using supplies properly especially sharp ones

Taking a breath and/or break when we feel an outburst coming

Keeping our bodies to ourselves

Walking carefully down hallways and stairs

Quietly walking into and out of classrooms

Using chairs and floor to sit, not tables

Trying to maintain calm bodies
ENGAGED:
Eyes on board, screen, book, work when asked to

Paying full attention to someone

Keeping distractions to a minimum

Trying our best

Following all directions and expectations

Focusing as best we can
We agree to follow these expectations as best we can, ask for help when we need it, help others to follow the expectations, and try again when we make mistakes. For every 100 PAWs, we will have a mini-classroom celebration!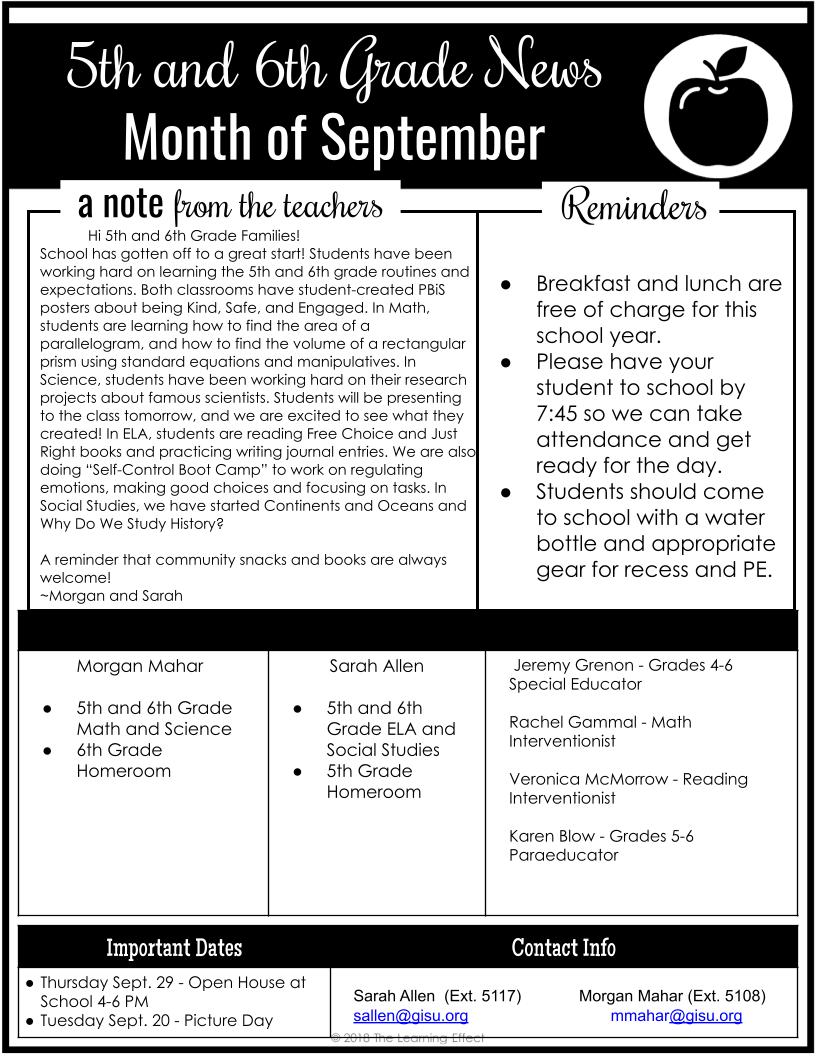 September Newsletter